8 French pastries to make at home during this pandemic
Staying at home during this pandemic has become the perfect chance to hone your baking skills. If you have run out of ideas on what to make, how about a real challenge like some French pastries?
Here are 8 French pastries you can try to make at home:
1.Croissant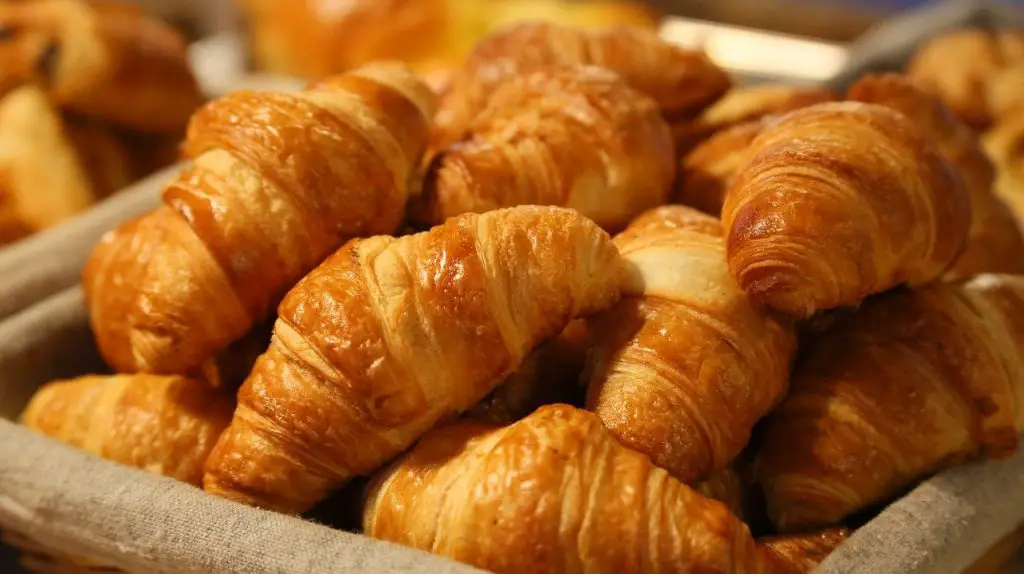 Kicking off this French pastries list is none other than the good old croissant. While the croissant is widely known as part of the French pastries family, the 'ancestor' of the croissant actually has Austrian origins.
Legend has it that the croissant is an adaptation of the kipfel or kifli which originated from Austria-Hungary. An Austrian artillery officer named August Zang founded a bakery in Paris some time in 1839 which served Viennese specialties such as kipfel and the Vienna loaf.
Soon enough, these pastries caught the attention of French bakers who proceeded to make their own versions, including the croissant.
Like any other French pastries, the croissant is a labour of love which requires a lot of patience and practice.
Chef Dominique Ansel shared seven tips for making the perfect croissant, including how to practice your rolling pin technique and to keep a close eye on the dough temperature.
For beginners, it is advised to choose a cold day with a room temperature below 20oC for your first attempt. This way you will have more time for the whole process and less chance of butter being absorbed by the dough.
Keeping the butter solid between the layers of dough is what gives the croissant its flakiness.
If you live in a tropical country like Malaysia, there are a few tips on making the perfect croissant. Cool the ingredients as well as the utensils in the fridge before use. Additionally, cool your dough for longer if you need to.
While croissants are amazing on their own, you can always turn them into a sweet dessert or a savoury meal.
Have it with jam or butter for your afternoon tea or enjoy it as a light lunch by eating it with hams, cheese and lettuce in between.
Check out the recipe here, here and here.
2.Brioche
In a 1611 dictionary, a brioche was described as "a rowle, or bunne, or spiced bread".
It is basically a French bread with rich and tender crumb thanks to its high egg and butter content. You can cook it with fruit or chocolate chips and serve it on its own.
Similar to other French pastries, it can be served as a basis of a dessert with various kinds of fillings or toppings.
When it comes to the do's and don'ts there are plenty to follow if you want to bake the perfect brioche.
Adding in the butter for instance, must be done slowly and with great patience. Food website Delish.com shares the butter addition process should take no less than 10 minutes.
It stated, "If you add the butter in too fast, it will not 'emulsify' into the dough and result in an oily, broken dough. It'll still bake off well enough, but do it right and your dough will satisfyingly smooth, glossy and plump."
To make the dough, it is important to let it rise to double its size at room temperature and then punch it down again.
After that, let the dough rise again in the refrigerator for varying periods.
The dough can be stored in the fridge for up to 24 hours (some even put it in for 48 to develop a stronger flavour).
Once the dough is nice and cold, you can divide it and shape. You can bake them in loaf pan, cake pan or a baking tray.
If you do not have the patience to wait until the next day, you can bake it on the same day, provided that you let the dough to rise double in size.
Check out the recipe here, here and here.
3.Beignet
While the origin of the beignet can be traced back to Ancient Rome, the term 'beignet' comes from the French word for 'bump'.
In the 17th century, French settlers brought beignets with them as they migrated to the eastern coast of Canada in a region called Acadia. From there, they were known as the Acadians.
A hundred years later, the British took control of the region causing thousands of Acadians to move elsewhere.
Many of them settled in Louisiana bringing along their language and food including beignets.
Fast forward to 1986, beignets became the Louisiana State Doughnut.
If you are into French pastries but you don't have an oven at home, you can try to make a beignet instead because it only requires frying.
The basic ingredients are butter, all-purpose flour, water, salt, eggs and oil for deep frying as well as powdered sugar to dust over the top of your beignet.
Those who have tried beignet might compare it to a doughnut. Some even called it the square, hole-less doughnut.
However, there are some differences between the beignet and the good-old doughnut.
Since it is made with more yeast and fewer eggs, the beignet tends to be more airy or puffy than the doughnut.
As for cooking tips, one of them is to make sure the dough is refrigerated for at least two hours before frying.
Check out the recipe here, here and here.
4.Canelé
Sometimes, it is not just the recipes that make great French pastries but it is the meticulous process behind them.
You can have the exact recipe from a world-class baker but it won't work if you cannot understand and master the skill behind the process.
The same thought goes to the canelé, a small French pastry flavoured with rum and vanilla.
This pastry has a soft and tender custard center and a dark, thick caramelised crust.
There are different versions of how the canelé came about. The history can be traced back between 15th and 18th centuries. It is understood that the pastry came from a convent in the regions of Bordeaux in Southern France.
These regions were famous for their wine. Hence, winemakers used to clarify wine using egg whites and would give the leftover egg yolks to the nuns. Combining it with other ingredients such as milk, flour, butter and sugar, the nuns created the canelé.
One of the tips to prepare the batter is by placing sugar, flour, egg yolk and salt in a blender. Then, blend the ingredients on the slowest speed and slowly put in warm milk and butter.
By blending the ingredients for about one minute, you should have a very thin batter.
Canelé has its own mold. Do not worry if you cannot find canelé mold in your local baking supply stores. These days, almost everything can be bought online. You can even find them on shopping apps such as Shopee.
Check out the recipe here, here and here.
5.Cream Puff
A cream puff or profiterole is a French choux pastry ball filled with whipped cream or custard.
A choux pastry is a type of delicate pastry dough which contains only butter, water, flour and eggs. While other pastries essentially need a raising agent to rise, choux pastry uses high moisture content to create steam to puff up the pastry.
A perfect choux pastry has a light and crisp outer shell with soft, creamy filling. The pastry has to be air with large air pockets inside as well.
There are two simple rules for choux pastry. Firstly, stick to the ingredients and measurements which means there is no room for improvisation.
Secondly, do not open the oven while it bakes.
Unlike other doughs, you need to boil the liquid ingredients with butter first before mixing in in the flour. Once this doughy paste is ready, let it cool down before beating the eggs in.
To make a profiterole, you need to pipe the choux pastry dough through a pastry bag into small balls.
After baking it, these little balls will form largely hollow puffs. You can then inject the cream puffs with fillings of your liking using a pastry bag.
It is believed that a chef by the name Panterelli or Pantanelli or Popelini invented the dough in 1540. This was seven years after he left Florence with Catherine de' Medici as part of her court when she married Henry II of France.
Soon enough, the pastry became famous among the French.
Check out the recipe here, here and here.
6.Pain Au Chocolat
If you love chocolate, this is the pastry for you. Pain au chocolat literally means chocolate bread. It is also known as chocolatine in the southwest part of France and in Quebec.
Legend has it that Marie-Antoinette introduced this pastry to France but it is actually considered a modern invention.
Once you have mastered the skill of making your own croissant, pain au chocolat should not be a problem for you.
It is made of the same layered dough as croissant except that you put one or two pieces of dark chocolate in the centre.
Like many of the French pastries on this list, pain au chocolat requires lots of resting and less time on your counter.
You can leave your covered dough to rest in the fridge for four hours and up to 24 hours.
Another tip is while rolling make sure the dough stays cold. If it is too warm especially after a few rolling, cover it and refrigerate for 30 minutes before rolling it again.
Remember that every time you work on the dough, only lightly flour the work surface, the dough and your rolling pin. Do not pour too much flour.
Lastly, if you find any air bubbles in your dough, just pop them with your finger then light flour the area where you popped the air bubble.
Check out the recipe here, here and here.
7.Pain aux raisins
If you have mastered the skill of making croissant or pain au chocolat, then making pain aux raisins should not be a problem for you. This pastry is practically another variant of the croissant or pain au chocolat.
Also known as escargot, this is a spiral-looking pastry often eaten for breakfast in France.
It is made with a leavened butter pastry with raisins added and shaped in spiral with custard filling.
Speaking of custard filling, you can make it the night before and refrigerate it.
Another tip is to use a floss to slice the rolls instead of knife. By doing so, you can prevent the roll from unrolling while you slice the dough.
Once cooled, you can brush apricot jam to give a great glaze and extra sweetness to pains aux raisins.
Check out the recipe here, here and here.
8.Palmier
All these pastries seem so hard to make, there must be an easy one to try, you may be thinking.
Let me introduce you to the palmier, also known as pig's ear, palm heart or elephant ear. It is a French pastry which is curled, very much like an ear. (Although, the more poetic one of us may describe it as a butterfly shape.)

Here is the thing; you can actually make palmier by using three ingredients. As long as you have frozen puff pastry, butter and sugar, then you are good to go.
It is made by alternating layers of puff pastries and butter, rolled and folded over to create (possibly) hundreds of flaky layers.
Once the puff pastry is rolled out, coat it with sugar, and then the two sides are rolled up together so that they meet in the middle, making a roll.
Then, the roll is cut into slices and baked.
While the origin of palmier could be traced back to the beginning of the 19th century, the history of puff pastry started way earlier.
Traditionally, it is believed that French painter and cook Claude Lorrain invented the puff pastry in 1645.
He wanted to make a loaf of bread for his sick father who was prescribed a diet of water, flour and butter.
Lorrain then prepared a dough, kneading the dough over and over, folding it again, and repeating the procedure ten times, unknowingly created the first puff pastry.
Check out the recipe here, here and here.
All photos are from pixabay.com