Panini is not a typical dish you normally look for in Kuching… but that doesn't mean you won't have those cravings for this grilled sandwich-y goodness.
In the name of our love of food, KajoMag went on a mission to look for the best place to find Panini (so you wouldn't have to).
By checking out these top five spots, you might be able to complete this list everyday this week:
Munch Café serves a blend of local as well as Western dishes; varying from a steaming hot bowl of noodles to a plate of thick and toasted sandwiches.
At Munch Café, their plate of Panini consists of two pieces of Focaccia bread grilled to perfection stuffed with chicken slices, sun dried tomatoes, mozzarella cheese, served with a side of salad, which cost RM12.80.
Other items available in Munch Café worth trying includes scones, their bagel with smoked Norwegian smoked salmon (my current favourite), mee sua as well as the various types of cool desserts which are perfect for hot weather.
It's self-serve, meaning that customers will have to get their own eating utensils, dipping sauce or extra plates at the utensil counter provided in front of the café. The Munch Café is open from 6.45 am until 3 pm every day except Sunday.
Check out their Facebook page to know more: https://www.facebook.com/MunchCafe/
The Museum Café and Shop at The Main Bazaar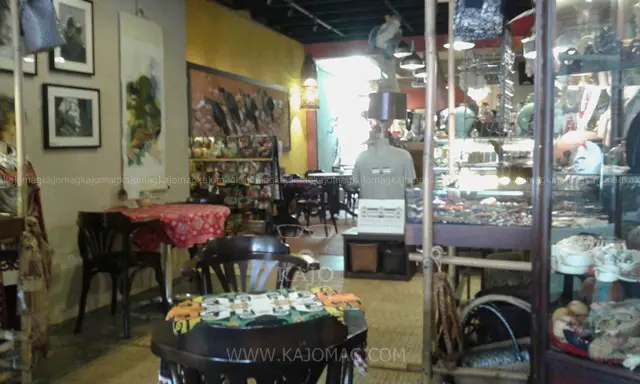 Located at the Main Bazaar in Kuching, the exterior of the cafe  looks more like an antique shop.
Entering the Museum Café and Shop is like stepping into a part of the Sarawak Museum itself.
Every inch of the place is either covered in shelves filled with traveling books, cabinets showcasing beautiful jewellery for sale and precious  trinkets.
It might be tricky walking around the café as it is cramped with small tables and chairs for customers.
However, it the best place to relax and chat or even read a book during a rainy day while enjoying a cool drink.
Taking advantage of the Instagram-worthy background, I spent about 15 minutes trying to take the perfect picture of my food before giving up and devouring my Smoked Duck Panini with cheese.
Besides smoked duck, customers can opt to have beef bacon, turkey ham, chicken, tomato, onion or tuna Panini.
Curious about what the café looks like? Why not pop by on Wednesdays for their weekly talk. From 5.30 pm to 7.00 pm, the talk features various topics on hobbies, interest and travel.
You may also check out their Facebook page at: https://www.facebook.com/sarawakmuseumshopandcafe/
At RM16, the Panini served at Tease is a bit more costly than those mentioned in this list.
That being said, I find the Panini – served warm with a side of French fries on a wooden platter – completely satisfactory.
Located at Icom Square, Tease is that sort of place to go if you have a last minute assignment to complete.
Those who prefer a private yet comfortable space to be alone might find a decent sized spot with a cushy sofa in the corner of the café partially hidden by a book shelf, while those who might come in with a large group may opt for the long cafeteria style table with high stools.
The natural light coming through the glass windows makes you feel like you are outdoors.
To know more about this café, check out their Facebook page at: https://www.facebook.com/teasebyjasestearoom/
I had some difficulty spotting this café (located at Lorong Tun Ahmad Zaidi Adruce) the first time, as it is located on the first floor.
For RM9.90, the beef slice Panini that I had for lunch was  filling without being too overwhelming.
The soft wholesome bread complements the smokiness of the beef slice and the crunchy texture of the lettuce. It is an easy and pleasant meal for those who are in the mood for a light lunch.
Besides the one I've sampled, you can also opt for other choices such as the chicken or turkey ham slices.
Besides the food, my favourite feature of the café is the book shelf in the middle of the eatery. So while waiting,  you can read a book or magazine to fill up the time.
Popular for a small gathering party, the café will sometimes be closed for big parties, so bear in mind to check their Facebook page for their opening status.
Coffee Obsession is open from 12  to 11.30 pm every day except Thursdays.
Check out their Facebook page at: https://www.facebook.com/coffeeobsessioncafe/
Seattle Coffee & Tea Kuching at Merdeka Palace Hotel and Suites
Merdeka Palace Hotel and Suites is strategically located in close vicinity to Kuching's historical sites.
Surrounding the hotel is the Sarawak Museum, St Thomas Cathedral, the Textile Museum, Sarawak Museum Department and the old Courthouse.
Even the building itself has a colonial style facade to match the heritage sites surrounding the area.
Seattle Coffee & Tea is located at the right corner inside the hotel and so you can get nice view overlooking the roundabout of Padang Merdeka and the old cathedral while enjoying a sip of hot coffee to go with your Panini, priced at RM14.
Check out their Facebook page here: https://www.facebook.com/SeattleCoffeeAndTea/
If you have other suggestions on where to get Panini in town, just let us know at KajoMag!