Because kolo mee and laksa are not the only things that taste good in Sarawak…..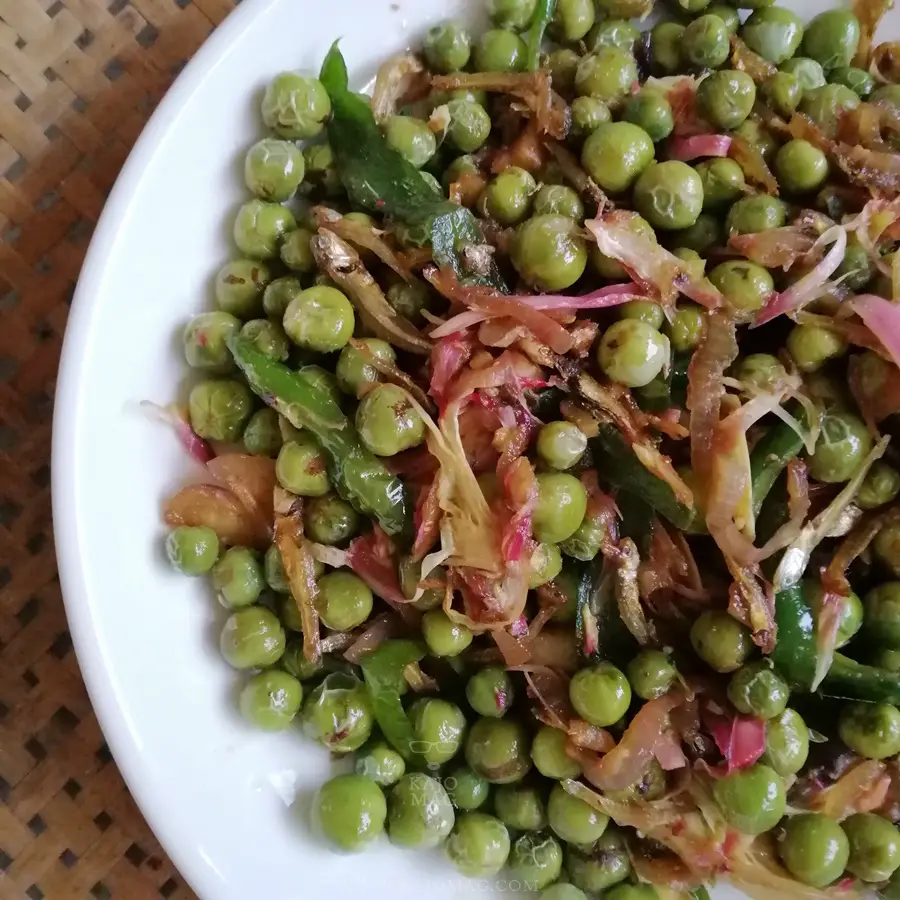 Often times, when we talk about Sarawak cuisine we do not give enough credit to the local vegetables in Sarawak.
While some (most?) might consider vegetables their kryptonite, Sarawak vegetables are far more interesting than the supermarket variety of carrots and cabbages.
In Sarawak, we have a variety of local vegetables that not only taste delicious, but they have different texture, taste and even colour.
Here are some of local vegetables in Sarawak that you might have seen in the local markets.  
Midin
Midin or bracken fern (Stenochlaena palustris) is basically the 'Beyonce' of local vegetables in Sarawak. Even though it's supposedly only found here, everybody across Malaysia (and those who have eaten here) knows about it.
It has a beautiful spiral shaped tip that is softer than its crunchy bottom half.
It is a wild vegetable that typically grows in open spaces, usually in peat soil.
As a wild vegetable, it is said that midin is resistant towards pesticides.  
When visiting here, it is typically recommended to try midin cooked with belacan (shrimp paste). However, some people might opt to have it cooked with just garlic. These days however, you can see some local restaurants serving it as a cold salad with shrimp, slices of shallots, vinegar and chillies.
Paku-pakis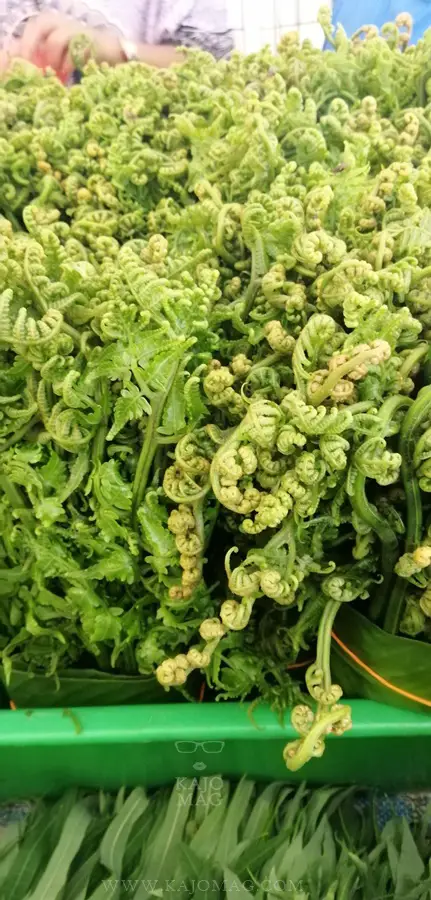 This wild fern is similar to midin as you can normally find it growing in the wild.
However, unlike midin, it has a different appearance. The fronds of the wild fern is a bit looser and more elongated.
And much similar to midin, this vegetable is normally stir-fried with belacan. It has a crunchy texture.
Paku kubuk 
Paku kubuk might look almost similar to midin and paku pakis. However, unlike the other two, its distinguished feature is its hairy white stem.
Like the other two ferns, paku kubuk is a wild vegetable that grows alongside paku pakis. It can be easily be found on the roadside.
To prepare this dish, most would cook as a soup with garlic clove and ginger. Some even prefer to blanch it and eat it with sambal.
However, unlike the other two, paku kubuk has a slightly bitter taste and a softer, spongier texture.
Daun timun (cucumber leaves)
Next on our list of local vegetables in Sarawak is daun timun. It is pretty easy to distinguish due to the triangular shape of its leaf and squishy velvety texture.
Typically, this vegetable is best prepared as a soup. Generally, some would prefer adding other vegetables such as baby corn or cucumber.
Daun ensabi (mustard greens)
For those who might not enjoy bitter flavours, then daun ensabi or Sarawak mustard green might not be the one for you.
Typically, this local vegetable is cooked with belacan and garlic or simply made into soup.
In Sarawak, sometimes kasam ensabi or pickled mustard green is also another way to enjoy this vegetable.
To prepare kasam ensabi, the leaves are rubbed together with coarse salt until they are completely wilted.
Once wilted, the vegetable is squeezed until all the moisture is pressed out and later kept in a container.
Borneo sour brinjal or Terong Dayak
Terong Dayak or terong assam (Solanum ferox) is another popular choice of local vegetables in Sarawak.
One surprising fact about this round orange vegetable is that it is part of the Protected Geographic Indication in Sarawak even though it can be found all over Borneo.
Typically, Terong Dayak is prepared in various ways. However, most would probably agree that the best way it prepared is as a soup since it has a natural tangy taste.
Daun ubi (cassava leaves)
Daun ubi or cassava leaves is a common vegetable dish in Sarawak. Typically, you can find them already finely grounded and packed in local markets.
While some may prefer the simple method of stir frying daun ubi tumbuk, it is a versatile vegetable that can prepared in various ways.
Terung pipit
Terung pipit or Solanum torvum is another local vegetable in Sarawak that you should know.
As the name might have suggested it, it is a cousin of the Terong Dayak.
Also known as turkey berry, terung pipit looks almost similar to green peas. It has a bitter taste and a slighty squishy texture when cooked.
Typically, terung pipit is an added ingredient to various dishes. For instance, in Sarawak, terung pipit is goes well with daun ubi tumbuk.
Other than that, it can also be added to fish curry dishes or even beef stew.