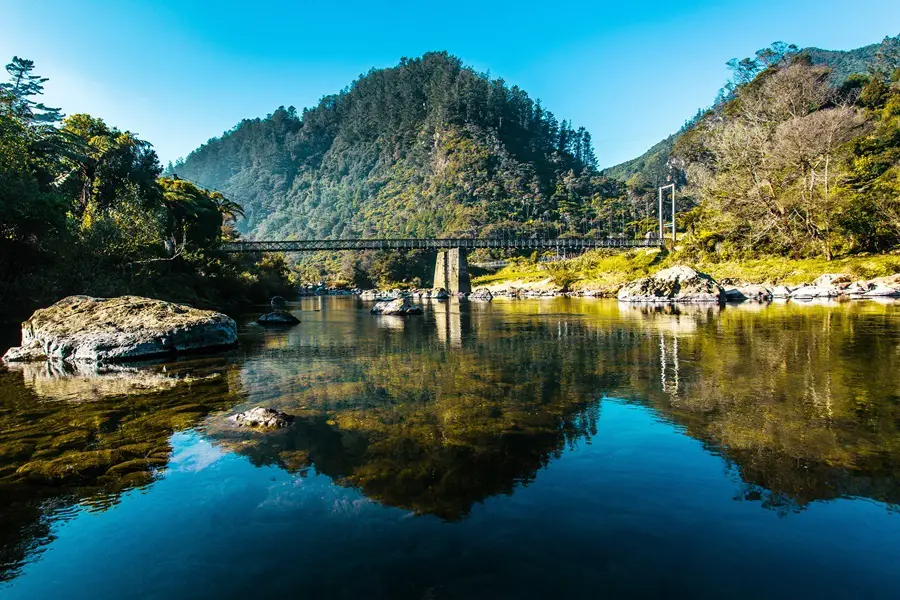 Seven reasons to visit New Zealand in spring time
Ahead of the summer crowds, New Zealand in spring time – September, October, November – set their own unique tone for enticing outdoor holiday experiences.
Spring in New Zealand is a lively season inspired with colour, flavoured with early produce and new wine releases.
It is populated by new life and creative festivals celebrating everything from seafood to arts and culture.
Days are getting longer and this is a season of many faces. From trim city gardens and farmers' markets heaving with fresh produce to green pastures filled with lambs and the fresh powder snows of the late ski season.  
Travel north to south and you will see the season as it unfolds. Renowned for its spectacular scenery and diverse landscapes, a New Zealand spring awakens the country region by region over several weeks as the warmer temperatures spread southwards across 1600km.
Seven irresistible reasons to visit New Zealand in spring time:
1. Blooming spring 
Spring is definitely the season to admire the beauty of New Zealand's flora and forests at their very best.
From the yellow swathe of  kowhai trees with their nectar-heavy flowers that are a magnet for native songbirds to the surreal green of unfurling fern fronds to massed spring bulbs.
Together with wild lupins and brilliant rhododendrons, new life pops up everywhere in a series of garden festivals throughout October and November.  
Hobbiton is never more glorious than when the pretty as a picture hobbit gardens blossom.
While, from north to south right across the country, many gardens of international and national significance open their gates to the public.
In the North Island, the Taranaki Garden Festival (1 – 10 November, 2019) is a major festival with 50 gardens on show.
But en route don't miss Hamilton Gardens internationally-acclaimed themed gardens or Rotorua's lovely thermal park.
In the South Island, the massed daffodils of Hagley Park and Otahuna Lodge in Christchurch offer a truly spectacular moment in springtime. 
2. Put a spring in your step 
Spring provides plenty of clear, settled days for exploring the great outdoors. Mild spring days and a lack of crowds mean this is a good time to discover some of New Zealand's multitude of walking or cycling tracks.
Hire a bike and cycle the spectacular Karangahake Gorge gold miners' trail in the Coromandel. Plus, go further to the thermal trails around Rotorua or through the southern vineyards of Queenstown's Gibbston Valley.   
Other than that, take a walk on the wild side with Foris Eco tours. It is one of New Zealand's best day hikes through Whirinaki's 'dinosaur forest' to meet the locals in their natural habitat.
Meanwhile, dig your heels in the sand on the rugged southern coast of Westland. This is where World Heritage protected temperate rainforests meet the ocean and local wildlife.
There, penguins, New Zealand fur seals or elephant seals – can be found enjoying balmy spring days with their latest offspring.  
Or visit Rainbow Springs' Kiwi Encounter, in Rotorua, to meet kiwi chicks as they hatch out of their large eggs. 
The first of the new season's little kiwi will hatch in September. Plus, there are likely another 100 eggs come into the hatchery over the next few months.
Interestingly, Emma Bean – Kiwi husbandry manager is expecting the 2019-20 season to be another bumper season.  
3.Picture perfect spring 
All this loveliness and rampant new life on display means spring is a great time to be in New Zealand with a camera.  
The lengthening days mean photographers will be rewarded with lighter mornings to go with the flush of spring greens.
Furthermore, snow remains on the higher mountain peaks making for excellent scenic images. 
Fields are filled with the bleating of spring lambs, back-lit with the morning sunshine and snow-capped peaks in the background. This is a quintessential New Zealand image.
Off the beaten track, the ending of winter opens many unmade roads. These roads which are closed during the snow, are now allowing access with suitable vehicles to the road less travelled. 
Marcus Adams, who leads Travelling Light Photography tours, recommends a spring visit to New Zealand. He explains, "It will reward the photographer with soft light, stunning scenery and the unfolding wheel of life in the fields and pastures. Well worth it!"  
4.Dive into spring 
New Zealand is long, relatively narrow, and encircled by an astounding 15,000 kilometres of coastline.
This means you're never far from the sea and large expanses of clear, calm waters. These are great conditions for diving, kayaking, fishing and other water sports.  
French explorer Jacques Cousteau named the Poor Knights Islands Marine Reserve. Located just off northern New Zealand's Tutukaka coast, it is one of the top 10 dive sites in the world.
The Knights attracts tens of thousands of divers annually who come to explore the myriad wonders of this colourful yet ethereal underwater world inhabited by an amazing array of marine life.  
Dive! Tutukaka operator Kate Malcolm says spring is an amazing season to dive the Poor Knights. She adds "Activity speeds up with fish spawning, upwelling currents bringing planktonic goodness and feeding frenzies. The islands never sleep but they truly energise with life."   
5.Dip your toes in a spring 
A dip in thermal mineral waters holds extra appeal in spring before the summer heat and the crowds arrive.  
At Hot Water Beach, on the North Island's Coromandel Peninsula, you can dig your own hot bath in the sand at low tide thanks to ancient springs beneath the beach.
Additionally, this activitiy makes for a convivial social event with your significant other or a group of friends.
Just a little further south, Polynesian Spa – on the edge of Lake Rotorua – has been voted one of the world's 10 best day spas.
Soak off the day's activities in a steaming, natural thermal pool or succumb to a reinvigorating mud treatment. 
Besides that, the South Island has an alpine take on thermal wonders. Hanmer Springs – 90 minutes north of Christchurch airport, is New Zealand's premier alpine spa. Relax in one of the many sculptured rock pools with temperatures ranging from 33˚C to 41˚C.
Or go further south in the heated glacial waters at Tekapo Springs and Omarama Hot Tubs.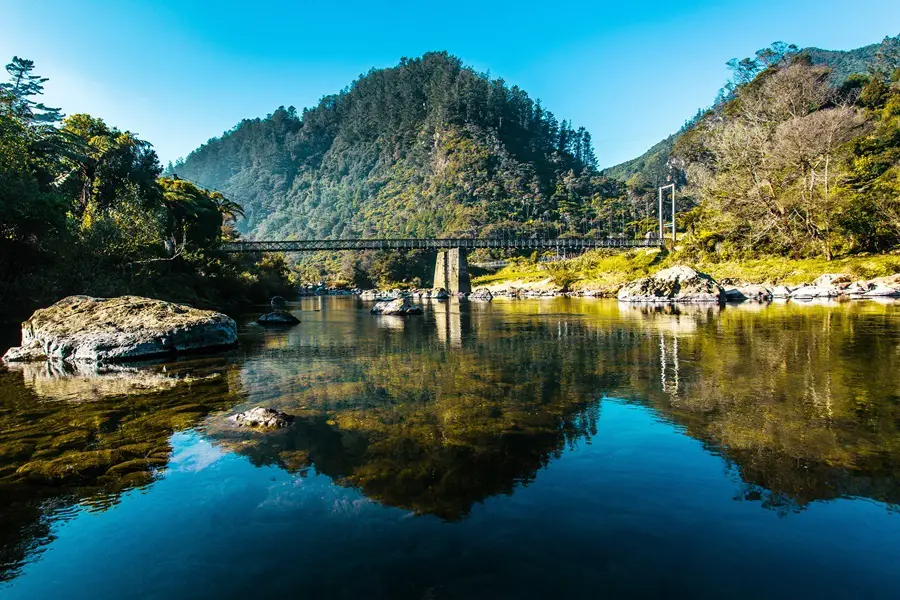 6.Fresh flavours of spring 
Greener pastures also make for an abundance of fresh local produce and wine, making spring the ideal season to journey along New Zealand's many food and wine trails.
Farmers' markets are a Saturday morning highlight in many regions.
Furthermore, it is also the time when vineyards celebrate the release of their new season's wine.  
Some of New Zealand's finest seafood delicacies are at their freshest and best in spring.
The king salmon season begins early October. Hence, where better to sample from than Mt Cook Alpine Salmon's Tekapo site. It is fed year-round by fast flowing glacial waters and, at 677m above sea level thus qualifies as the world's highest salmon farm.  
Apart from that, there is also delectable New Zealand whitebait caught from the river mouths of the South Island's West Coast. It is commonly served up as a whitebait pattie. 
FAWC (Food & Wine Classic) held in Hawke's Bay is the not-to-be-missed spring culinary festival of the finer arts. The 2019 edition will run for 10 delicious days from 1 – 10 November.
Moreover, it will include dinners with the winemaker to long lunches, pop-up destinations and glorious food markets. 
7.Swish into spring 
And finally, after a bumper winter season, the Queenstown ski fields are gearing up for one of the best spring ski seasons on record. 
Spring skiing in New Zealand offers more opportunities for milder days on the slopes without the crowds.
The ski season continues through until October. Hence, it gives snow sports lovers an extended chance to experience uncrowded fields or off-piste skiing, snowboarding and heli-skiing.  
Meanwhile, Queenstown, nearby Central Otago and Wanaka are enjoying pretty blossoms on the trees and daffodils bursting into life. Crisp fresh mornings are perfect for a relaxing escape, or for exploring the trails by bike or by foot.