Beautiful Korean drama filming locations in Slovenia you must visit
Slovenia, or officially known as the Republic of Slovenia, is a beautiful country located in southern central Europe.
Thanks to few Korean dramas being filmed in this mountainous country, it has catapulted itself as a tourist hotspot among Asian travellers, especially South Koreans.
Reports show that tour operators saw anincrease in the number of South Korean visitors after K-drama Dear My Friends used Slovenia a filming location in 2016.
This number was further increased thanks to the hit drama Black Knight (2017) which was shot around the country.
The drama follows the story of self-made CEO Moon Soo-ho (Kim Rae-won) who is in love with his childhood crush Jung Hae-ra (Shin Se-kyung) even after they had been separated for years.
In the meantime, Hae-ra is a travel agent who ironically has never travelled outside of South Korea. When they finally reunite as adults, their reunion takes place in Slovenia.
Looking through these breathtaking locations in Slovenia, it is understandable why they are irresistible to visit for both filming crew and tourists alike.
Even though the Covid-19 pandemic is still raging around the world, it does not mean you cannot plan for your future vacation.
Here are five beautiful Korean drama filming locations in Slovenia you must visit one day:
1.Predjama Castle
In Black Knight, Soo-ho and Hae-ra were seen taking photos in front of this majestic castle.
The place is a Renaissance castle built within a cave mouth located about 11km from the town Postojna.
The Patriarch of Aquileia built the castle in Gothic style sometime during the 13th century, It was purposely built under a natural rocky arch high in the stone wall to make it difficult to access.
Legend has it that in the 15th century, there was a robber baron named Erasmus of Lueg.
He came into conflict with the Habsburgs. They are one of the royal families of Europe who sat on the throne of the Holy Roman Empire. Erasmus killed Habsburgs' commander of the imperial army Marshal Pappenheim.
The then Holy Roman Emperor Frederick III was angry with Erasmus so he sent his force to seek vengeance.
This forced Erasmus to hide at Predjama Castle. Despite the Emperor's powerful force, Erasmus managed to survive and protect himself from the attack thanks to the secret tunnel between the castle and nearby Postojna Cave.
According to one popular belief is that Erasmus was betrayed by one of his servants and was killed in his lavatory by a shot from a cannon. Not a pleasant way to die is it?
Since then, the ownership of the castle has changed hands numerous times. After World War II, the Yugoslav Communist authorities confiscated the castle and turned it into a museum.
Pledjama Castle was also one of the filming locations for Jackie Chan's Armour of God (1986).
2.Ljubljana city
Ljubljana is not only the capital city of Slovenia, it is also the largest.
The history of this city can be traced back to the 12th century. It was the capital of Carniola, a historical region that comprised parts of present day Slovenia.
One of the filming locations in the city for Black Knight is Butcher's Bridge. It is where Soo-ho and Hae-ra meet again as adults for the first time.
Opened to the public in 2010, the bridge is a footbridge which crosses the Ljubljana river. Shortly after the opening, couples started to put on padlocks on its steel wires to declare eternal love for each other. It is a phenomenon similar to the one on the Parisian Pont dest Arts.
If you are feeling hungry, head to Sorbora Steak House for some proteins.
In the drama Memories of the Alhambra (2018), the main characters Jung Hee-joo (Park Shin-hye) and Yoo Jin-woo (Hyun Bin) meet up for lunch supposedly at Granada, Spain. The steak house where they filmed that scene is in fact at a whole different country at Ljubljana.
Speaking of Memories of the Alhambra, other shooting sites for the drama at Ljubljana include Cobblers' Bridge and Hercules Fountain.
Overall, the city has so much to offer for tourists especially museums, art galleries and castles.
3.Otočec Castle
Do you know there are approximately 500 fortresses, castles and manor houses scattered across Slovenia?
They have a variety of medieval, Renaissance and Baroque architecture so visitors can explore them to their hearts content.
However, there is only one water castle in Slovenia and it is actually hotel. Located on a small island in the middle of the Krka River in Otočec.
In the drama Black Knight, the entrance and the courtyard of Otočec Castle appear as the vacation home owned by Soo-hoo.
Meanwhile in reality, the castle is a small luxury hotel with a world-class restaurant on site.
Tracing back its history, the castle was once owned by Ivan Lenkovic , the chief commander of the Croatia-Slavonia March which used to be part of Habsburg Monarchy.
It was built some time in the middle of 13th century. While it is almost impossible to own a castle like a Korean drama character in real life, you can still stay at this castle hotel for around RM1300 per night.
4.Bled
While you might not be able to ride around Bled town on a convertable like Soo-ho and Hae-ra did in the drama, it does not mean you should skip this town when visiting Slovenia.
The town is located near the border with Australia, about 50km northwest of Ljublijana.
Its biggest tourist attractions are glacial Lake Bled and the iconic Bled Castle.
According to earliest records, Bled Castle is the oldest Slovenian castle dating back as early as 1011.
Emperor Henry II donated the castle to the Bishops of Brixen and it became their residence for eight long centuries.
Today, the castle has turned into a museum with exhibitions focusing on Lake Bled's history.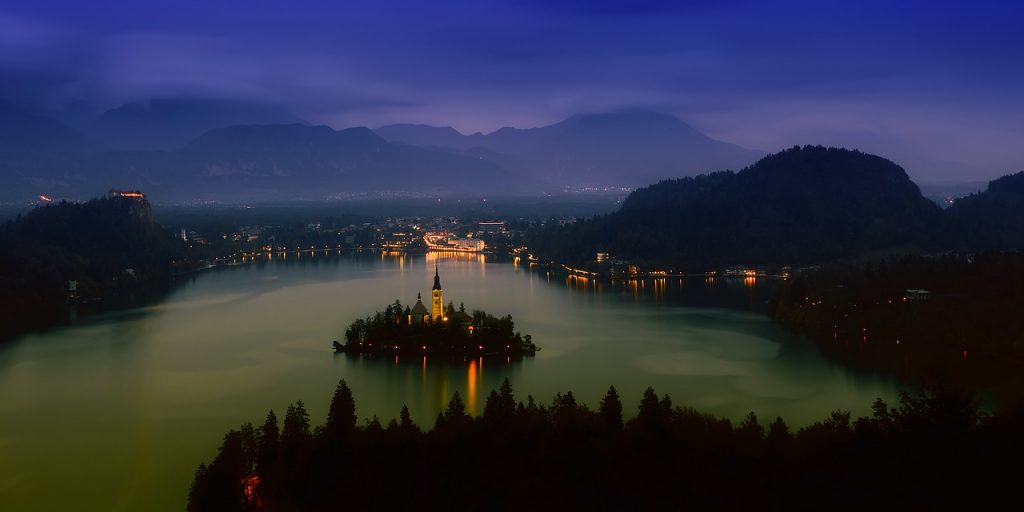 5.Piran
Piran is another picturesque town featured in the drama Black Knight where Soo-ho and Hae-ra enjoyed ice-creams together. If you noticed in the series, Piran is actually a coastal town.
The town is located in the southwestern Slovenia on the Gulf of Piran on the Adiratic Sea.
Piran is known for its medieval architecture with narrow streets and compact houses.
Before it was incorporated into the Roman Empire in 178 BC, the hills area of Piran was occupied by the Illyrians ( a group of Indo-European tribes).
The name of the town most probably originates from the Greek word for red 'pyrrhos'. It most probably due to the reddish flysch stones commonly found in the town's areas.
Like the other locations on this list, Piran is also one of Slovenia's major tourist attractions.
All photos are under courtesy of Pixabay.com