KajoPicks: 5 South Korean dark comedy dramas to watch
Also known as black comedy, dark humour, morbid humour, a dark comedy is a style of comedy that makes light of serious subjects.
Unlike other genre such as romance and thriller, South Korean dark comedy dramas are quite rare.
But it doesn't mean that they are not unpopular.
The common themes in Korean dark comedy series are crime, wealth, power, poverty, violence and death.
Regardless of the storyline, they all have one thing in common.
They managed to provoke discomfort but serious thought among their audience particularly in South Korean society.
Here are five KajoMag's suggestions of South Korea dark comedy to watch:
1.Sky Castle (2018)
This South Korean dark comedy drama is the second highest rated drama in Korean cable television history.
The mothers in Sky Castle (2018) are the worst kind of helicopter mums in televisions.
They are housewives residing in a luxurious residential area called SKY Castle.
However, they are not like your ordinary housewives.
These women are using every possible mean to make sure their husbands becomes more successful and their children to be the best students going into South Korea's Ivy League.
Overall, it casts light on South Korea's extremely competitive education system.
In a way, the series also pokes fun at parents' obsession over their children's education.
From making sure they have the perfect results to ensuring their paths at the best universities, the parents in Sky Castle are just relentless in this story.
For example, the overzealous mother Han Seo-jin (Yum Jung-ah) under the suggestion of her daughter's tutor, purchases a desk similar the one in school and set her daughter's room in the precise temperature so it 'recreates the examination atmosphere' at home.
Thanks to the similar issues of competitive education system and the glory of entering a prestigious university, the drama also gained a lot of attention in China.
The series stars Yun Jung-ah, Lee Tae-ran, Yoon Se-ah, Oh Na-ra and Kim Seo-hyung.
2.Prison Playbook (2017)
Just like Sky Castle, this series was also one of the highest rated Korean series on cable television history.
It tackles social issues such as male friendship, toxic masculinity as well as the lives around correctional facilities.
The plot starts with Kim Je-hyuk (Park Hae-soo), a star baseball player who is going to sign with a major league team in the US.
Unfortunately, his life turns upside down when he saves his sister from a sexual attack and assaulting the attacker in the process.
The incident lands Je-hyuk with a one-year prison sentence and that is when his life behind bars begins.
What makes the drama so hard to let go from the first episode is the background story of each character in the series.
The prison guard for instance is Je-hyuk's best friend who used to play baseball with him in high school.
He had to quit the sport due to an injury he sustained in a car accident.
Every character is well put together and portrayed perfectly by the talented casts.
They managed to show the viewers that these convicts in a correctional facility have more stories to tell than what being reported on the news.
3.Heard it Through Grapevine (2015)
Here is another South Korean dark comedy series that makes fun of the ultra-rich or the chaebols in the country.
Han Jeong-ho (Yoo Jun-sang) comes from a prestigious and wealthy family who known to produce successful lawyers.
Meanwhile, her wife Choi Yeon-hee (Yoo Ho-jeong) is perfect looking without a single hair strand out of place socialite life.
Their family life turns upside down when their teenage son Han In-sang (Lee Joon) impregnates a girl.
For the wealthy couple, it is a double-blow because the girl is considered a 'nobody' who comes from an ordinary family living in a neighbourhood.
Unlike other Korean dramas, this series focuses on more realistic situation when a rich boy falls for a poor girl.
4.Psychopath Diary (2019)
Can a person's character change completely after suffering a memory loss?
Yook Dong-sik (Yoon Shi-yoon) has a timid character who cannot even express anger toward those who look down upon him.
This causes him to be depressed and suffers suicidal thoughts.
After failing a suicide attempt, Dong-sik accidentally witnesses an ongoing murder.
He also unintentionally picks up a diary belonging to the murderer… who also happens to be a serial killer.
The killer has actually detailed all his crimes in the diary.
While Dong-sik runs away with the diary, he is accidentally hit by a police patrol car which causes him to suffer retrograde amnesia.
After waking up with the diary in his possession, Dong-sik believes that he himself is a psychopathic serial killer.
In the meantime, the real serial killer is feeling anxious.
5.Vincenzo (2021)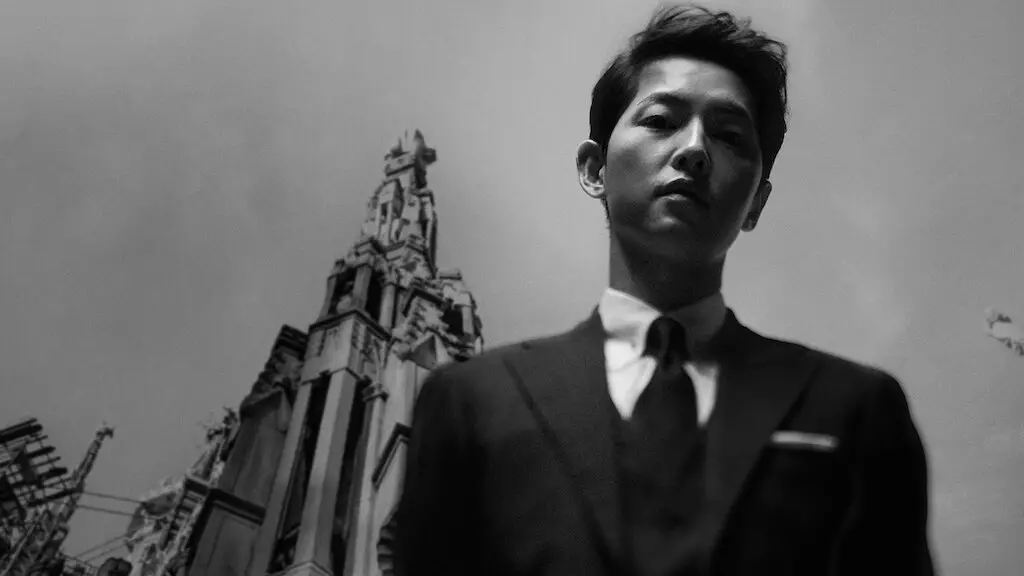 Another Korean dark comedy drama that made it into one of the highest-rated dramas in Korean cable television history is Vincenzo (2021) starring Song Joong-ki.
It follows the story of Park Joo-hyung (Song Joong-ki) who was adopted by an Italian family and lived in Italy at the age of eight.
He is then adopted by Don Fabio, the head of the Cassano mafia family.
Under his new name 'Vincenzo Cassano', he becomes the mafia's Iawyer and Don Fabio's right-hand man.
After Fabio dies, his biological son Paolo becomes the new head of the Cassano family and tries to get rid of Vincenzo.
Vincenzo then runs for his life to Seoul and to recover 1.5 tonnes of gold that he helped to secretly stash in the basement of Geumga Plaza.
Here comes another problem; the Babel Group has illegally taken ownership of the building and Vincenzo has no access into it.
The drama plays around corruption and murders particularly in the real estate world.
Besides Song Joong-ki, the casts include Jeon Yeo-been, Ok Taec-yeon, Kim Yeo-jin and Kwak Dong-yeon.