When it is done right, product placements or PPL in South Korean dramas don't hurt the storyline.
However when it is not, PPLs can annoy and make viewers lose interest in the drama.
This type of marketing move is like salt in a dish for any Korean drama. If you put too much salt in your cooking, you will find it salty. At the same time, you shouldn't completely get rid of the salt because you need that flavour and sodium for your health.
The same thing goes for Korean dramas; a production company cannot produce a television series without the money coming in from product placements.
All the same, they cannot feature too many products in a drama that it feels like a 16-episode long advertisement.
With the rise in global popularity of Korean dramas, many companies are riding on the wave to promote their brands.
We are seeing more and more product placements from Subway sandwiches to Dyson vacuum in K-dramas nowadays compared to days of Winter Sonata.
And not all Korean drama fans are happy with this change.
So here are at least 5 Korean dramas that were criticised for its product placements (PPL):
1.Guardian: The Lonely and Great God (2016)
Widely known as Goblin among K-drama fans, this series follows Kim Shin (Gong Yoo) who is cursed to stay immortal forever.
Some of the products placed in the drama include Toreta Hydration Drink, Samsung Galaxy S7s, Baskin-Robbins, Kanu Coffee, Subway, Pure Love White Musk Perfume, Dal.Komm Coffee and Haru Yache Organic Daily Vegetables Yogurt.
The main reason the drama was slammed for its PPL is because it is just excessive.
The characters mainly drink only one beverage throughout the drama namely Toreta Hydration Drink.
When they go out to eat, they only go to Dal.Komm Coffee, Subway, Baskin-Robbins and BBQ Olive Chicken.
While the PPL scene in Goblin is deemed awkward and excessive, one cannot deny the power of advertising of the romantic fantasy drama.
It is that the estimated revenue for this drama is about 2 to 4 billion won (USD1.8 mil to USD3.6mil).
With increase in visitors at the various filming sites especially at Jumunjin Beach Breakwater, Gangneung city, Goblin is credited for boosting the local economy.
It also helped promote Korean author Kim In-yook whose poetry book The Physics of Love gained renewed attention after one of its verses was featured in the drama.
2.The King: Eternal Monarch (2020)
Written by the same scriptwriter as Goblin, Kim Eun-sook seemed to not know how to smoothly place PPL in her dramas especially The King: Eternal Monarch (2020).
It is understandable since it is a sci-fi drama which requires a lot of CGI, the series is backed up with estimated budget of 30 billion won (USD25.4 million).
To compensate that along with star-studded cast including Lee Min-ho and Kim Go-eun, The King: Eternal Monarch was heavily filled with advertisements.
Some of the products include food delivery app Yogiyo, bakery chain Paris Baguette, Georgia Coffee, BBQ Olive Chicken, Aston Martin, The Alley, jewellery line J.estina, Cheong Kwan Jang Red Ginseng Extract, Jongga Stir-fry Kimchi, Kahi Skincare, Cellreturn LED Mask, DParks Handphone Case and other sponsored items such as sunglasses and furniture.
It is not just the excessive product placements which stirred up the audience but also the cringey, unnecessary comments to promote these products in the middle on the storyline.
While the fans were unhappy, the companies behind these product placements were laughing their way to the bank.
BBQ Chicken for instance, reported the sale of 550,000 sets of its fried chicken in a month after its appearance on the series.
A typical advertisement for beauty products is a scene of a woman getting ready for her work or a date.
Imagine this familiar scene but place it in a Korean drama then you have the reason why Memories of the Alhambra being critised.
After the main characters Yoo Jin-woo (Hyun Bin) and Jung Hee-joo (Park Shin-hye) confirmed their feelings for each other, they both go out for a date.
Then, a series of product placements take place in the drama.
When getting ready for a date, Hee-joo start to use various items such as shampoo, hair essence, lipstick and earrings, which are all paid advertising items.
The scene in which Hee-joo putting on the hair essence is practically a hair tutorial of how to use RYO Hair Loss Care Essence.
Nonetheless, other product placements in the drama can be considered smoothly incorporated into the plot.
Since the series is about augmented reality game, some of the advertised products appeared as game items in the story.
For instance, players need to purchase a Subway sandwich to boost their characters' 'health' in the game.
4.True Beauty (2020)
"Is this a Chinese drama?" This was some of the criticism over the product placement in the drama True Beauty (2020) after its seventh episode was aired.
In that particular episode, the main character Lim Joo-kyung (Moon Ga-young) enjoys an instant hot pot from Zihaiguo, a Chinese brand.
The scene was heavily criticised because it was a blatant product placement without making any sense to the plot.
A high school student buys a Chinese product from a convenience store but the brand is not even available in any convenience stores in South Korea.
With other Chinese brands popping up on billboards every now and then throughout the drama, many Korean viewers were not happy with the heavy promotions on foreign companies.
5.Vincenzo (2021)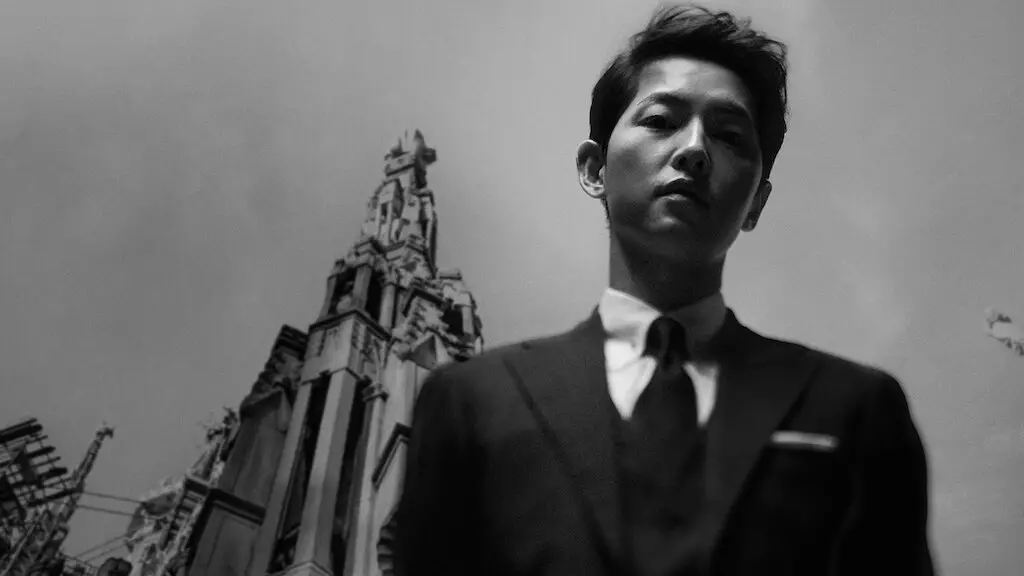 Here is another Korean drama that came under fire for its product placements of Chinese products.
Just like the drama True Beauty, Vincenzo (2021) was under heat for featuring the brand Zhihaoguo but instead of instant hotpot, this time it was instant bibimbap.
Moreover, bibimbap is a Korean dish not a Chinese food.
The controversy even drew out Vincenzo's lead actor Song Joong-ki to apologise for the scene.
On the other hand, Indonesian viewers were happy to see their home brand Kopiko seen in the drama.
It is estimated that it cost around 200 million won (RM740,000) to have your product being placed in A-list drama like Vincenzo.