KajoPicks: 15 South Korean medical dramas you need to watch
Raise your hand if you spent your childhood watching ER and then later in your teenage years watching Grey's Anatomy like me.
While the Americans made medical dramas famous 20 years ago, recently the South Koreans have been slowly making their mark outside of their own country.
So much so that there is an American remake of South Korea's The Good Doctor (2016).
Although romance is a common theme in these South Korean medical dramas, fans still can enjoy the thrill and tension working in the medical field through these series.
Here are KajoMag's choices of South Korean medical dramas you need to watch:
1.Brain (2011)
Shin Ha-kyun is perhaps one of the most notable actors in South Korea. One of his memorable performances is in the 2011 medical drama Brain.
Here, he portrays a cold and ambitious neorosurgeon named Lee Kang-hoon. He is haunted by the death of his father on the surgery table.
Little does he know that the one responsible for his father's death is someone close to him.
2.Doctor Stranger (2014)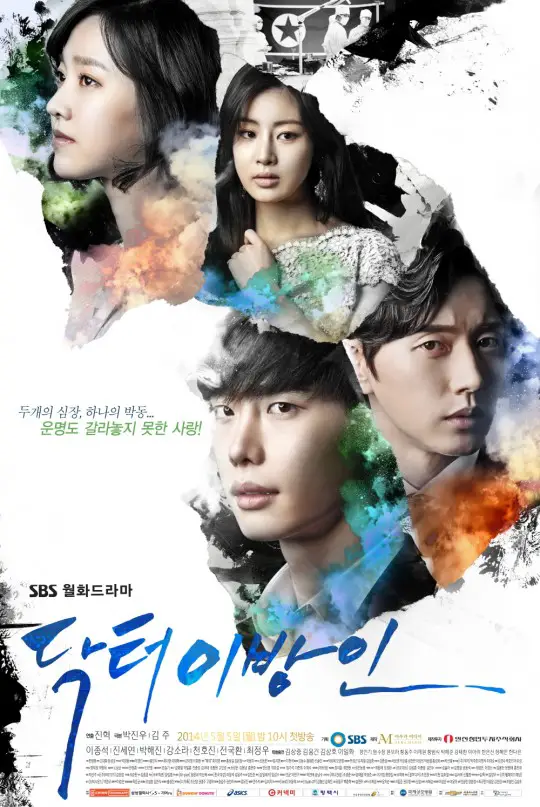 Is it me or does Lee Jong-suk look too young to portray a surgeon in this Korean medical drama?

While the medical aspect usually appears to be well-researched and convincing for lay people, having a hot, handsome, young actor as the medical genius makes the unconvincing part of these dramas.
Nonetheless, Jong-suk is talented and charming as usual in this drama acting as Park Hoon. He is a South Korean raised in North Korea after his father was tricked into going over there. IN North Korea, he trained to be doctor and later defects to South Korea.
3.Dr Romantic (aka Romantic Doctor, Teacher Kim) (2016)
Dr Romantic is one of few Korean medical dramas which has an experienced actor as its main lead as opposed to young heart-throb actors.
The story follows Boo Yong-joo (Han Suk-kyu) who, after a traumatic incident, disappears and changes his name to Kim Sa-bu.
He used to work at Seoul's top hospital before working at small hospital in Gangwon province. There, he takes two doctors under his wing Kang Dong-joo (Yoo Yeon-seok) and Yoon Seo-jeong (Seo Hyun-jin).
4.D-Day (2015)
Here is another fictional doctor that was transferred from a top medical center to a not-so-famous hospital.
Lee Hae-sung (Kim Young-kwang) is working in a rundown hospital with no emergency room after disobeying his previous hospital director.
Suddenly a sinkhole appears in Seoul followed by earthquake blocking all access to the city. Soon, phones, electricity and water are all not working. Hae-sung starts to save and treat people but what happens when medicine begins to run out?
5.Good Doctors (2013)
When an autistic savant becomes a doctor, the road ahead seems nothing but challenging. Joo Won is brilliant in the role of an autistic doctor named Park Si-on. Watch how he struggles with his bedside manner as a doctor despite his undeniably brilliant skill as a surgeon.
This Korean medical drama even inspired the American remake by the same name which debuted in September 2017.
6.Yong Pal (2015)
Following his success in Good Doctors (2013), Joo Won takes up another role as a doctor in Yong Pal (2015).
This time he is a skilled surgeon who moonlights as a mercenary doctor treating criminals and corrupt plutocrats.
7.The Doctors (2016)
First of all, The Doctors (2016) starts a bit off as the teacher has a thing going on with one of his students.
Thirteen years later, the pair reunite when Yoo Hye-jung (Park Shin-hye) becomes a doctor and her teacher Hong Ji-hong (Kim Rae-won) turns out to be her senior neurosurgeon.
Park's character gathers a fan base through this drama with her charismatic role transforming from a delinquent to a compassionate doctor.
8.Hospital Ship (2017)
This Korean medical dramas is about a group of young doctors who provide medical care to the locals who live in rural villages on little islands.
So the medical team comprises an interesting mix of a capable, beautiful woman surgeon, a doctor who joins the team as part of his military service, an oriental doctor and a dentist.
9. A Beautiful Mind (2016)
How can you be a doctor if you can't be empathetic? Apparently in a Korean medical drama, you can.
Lee Young-oh (Jang Hyuk) is a genius neurosurgeon who is unable to feel empathy. Things get complicated when there are mysterious deaths in the hospital and everything points to his involvement.
10.Medical Top Team (2013)
This Korean medical drama focuses on the lives of doctors and nurses in the fictional Gwang Hae University Hospital.
Additionally, the main fictional doctors in this drama are specialised in cardiothoracic surgery, a medical field which focuses on surgical treatment inside the thorax.
11.Cross (2018)
While most doctors would say that they pick up medicine to save lives, this doctor in Korean medical drama becomes one to avenge his father's life.
Kang In-gyu (Go Kyung-pyo) becomes a resident doctor working in the organ transplant department after his father was brutally killed 15 years ago.
12.Life (2018)
In Life (2018), Ye Jin-woo (Lee Dong-wook) is a doctor who finds out that the hospital director is siphoning money from the hospital.
When the director dies after falling off an apartment building, his death is ruled as an accident. However, Jin-woo believes there is more than meets the eye.
13.Live Up to Your Name (2017)
How about a dose of fantasy in your Korean medical drama? Heo Im (Kim Nam-gil) is a doctor from the Joseon dynasty who falls into a river and travels to modern day Seoul.
There he meets Choi Yeon Kyung (Kim Ah-joong), a 21st-century doctor.
14.Doctor John (2019)
Korean fictional doctor in drama-land is often portrayed as arrogant and Dr John Cha (Ji Sung) is one of them.
The recurring theme for this Korean medical drama is euthanasia as Dr John spent three years in prison for performing euthanasia on a dying patient.
15.Doctor Prisoner (2019)
How far would you go to take revenge? In this Korean medical drama, the doctor goes as far as working in prison.
Nam Goong Min plays the role of Dr Na Yi-je who applies to work at a prison after his medical license gets unfairly suspended.
So, do you know any other Korean medical dramas that should be on this list? Let us know in the comment box.