KajoPicks: 10 K-dramas to watch for Korean fashion inspiration
With K-pop music and K-dramas making waves around the world, it makes sense that Korean fashion is also gaining its own attention.
Korean fashion brands are riding the wave of the K-wave phenomenon through product placements in K-dramas.
For instance, any hardcore K-drama fans would recognise Korean jewellery brand J.Estina because it occasionally pops up as product placements.
Fashion enthusiasts can always turn to K-dramas for styles and outfits to steal.
So, here are 10 K-dramas you need to watch for some Korean fashion inspo:
1.My Love From The Star (2013)
Kicking off this list is none the most iconic K-drama known for its Korean fashion raze when it was aired, My Love from the Star (2013).
It is a romantic fantasy drama starring Jun Ji-hyun, Kim So-hyun, Park Hae-jin, Yoo In-na, Shin Sung-rok and Ahn Jae-hyun.
The story follows Do Min-joon (Kim Soo-hyun), an alien who landed on Earth in 1609 during the Joseon Dynasty.
400 years later, he falls in love with famous actress Cheon Song-yi (Jun Ji-hyun).
Besides introducing the world to 'chimaek' (a combination of fried chicken and beer), the series was also responsible for bringing Korean fashion to the world, especially into the China market.
Since Song-yi is a celebrity in the drama, it is natural for the character to wear high branded clothes. She is spotted wearing Chanel, Gucci, Dior, Paul Smith, Didier Dubot, Alexander Wang, Belgian designer Diane von Furstenberg and many more.
I mean, who wears Givenchy sweaters at home unless you are mega rich right? It certainly helps that the actress Jun Ji-hyun did do some commercial model while juggling with acting when she first started.
It is no surprise how she is able to pull off every look in the drama. Commoners like us might not able to afford Song-yi's wardrobe but it does not mean we cannot copy her looks.
She is known for wearing thick headbands to accessorise her simple and straight hair. Sometimes, Song-yi pins her bangs with a colourful hair clip.
2.Search: WWW (2019)
If it is a K-drama about three different career women, it bound to have some Korean fashion moments.
Search: WWW (2019) is about three women – Bae Ta-mi, Cha Hyeon and Song Ga-kyeong.
They work in top competitive web portal companies Unicon and Barro.
Each female character portrays distinctly different fashion styles which also fits their characters.
Bae Ta-mi (Im Soo-jung) is obviously in love with stripes.
She proves that it is okay to be obsessed with a one particular pattern as long as you know how to style it.
Her fashion is inspiring for career women out there who are in their 30s, especially if you have preference for buttoned up shirt.
Meanwhile, Cha Hyun or Scarlett (Lee Da-hee)'s style is as strong and fierce as her character in the drama.
She diversifies her outfits and makeup depending on the occasion throughout the drama.
Cha Hyun is not afraid of patterns or colours and viewers can see her rocking incredible accessories to compliment her outfits.
Lastly, Song Ga-kyung (Jeon Hye-jin) always means business every time she shows up wearing a pantsuit in the drama.
To accentuate her waistline, she sometimes wears a skinny belt on top of her blazer.
Another important accessory in Ga-kyung's signature style is her statement earrings.
With either one or both sides of her short hair always tuck behind her ears, Ga-kyung never fails to match her earrings with her outfits.
3.What's Wrong with Secretary Kim? (2018)
Nobody can rock high neck blouse and pencil skirt in K-dramaland like Kim Mi-so (Park Min-young) in this drama.
Since Kim Mi-so works as a secretary, not a female CEO in the drama, she does not have many clothes (just like the rest of us).
For her office look, she always don a form-fitting, high waist pencil skirt in neutral tone to match with different style of blouses.
Mi-so's blouses range from simple collar style to statement ribbon around the neck. Despite the different types of collar, her blouses are mostly long sleeves in one tone of colour without any pattern.
With this timeless and classy choices, Mi-so can pull off different kinds of looks with less fashion items.
Meanwhile, her fashion outside the office is equally inspiring as she always opts for comfortable, feminine dresses or simple t-shirt and jeans.
Lee Ji-eun (or better known as IU)'s character Jang Man-wol in this romantic-fantasy drama is nothing but perfection.
From her hairstyle to accessories are all on point.
Since Man-wol is a 1000-year-old hotelier, her style seems to carry a little bit of timeless fashionable items from different eras.
For her outfits, she is not afraid of wearing puffy sleeves and high collars as well as matching jeans jacket and skirts.
To top of her classic look, there is always vintage-looking accessories such as brooch, hairpin and satin gloves.
Moreover, Man-wol's feminine dress is often paired with matching statement hats.
5.Black Knight: The Man Who Guards Me (2017)
If the character plays the role of a fashion designer, he/she is bound to be stylish and fashionable.
In Black Knight: The Man Who Guards Me (2017), So Ji-hye plays a fashion designer named Choi Seo-rin who is cursed with immortality.
She runs Sharon' Boutique where every fashionable piece is made to measure.
While each piece of clothing she designs is a masterpiece – especially for the main character Jung Hae-ra (Shin Se-kyung) – the clothes that Seo-rin wears in the drama is well put together.
Her coats in particular, are all elegant and luxurious.
Plus, her statement earrings are always on point and compliment her outfit.
Unlike Seo-rin, Se-kyung's character Jung Hae-ra is an ordinary office worker in a travel agency so her outfits are less extravagant.
However, it doesn't mean that she is less stylish.
While she is commonly seen wearing only one overcoat which is her purple cashmere coat, the colour and cut of Hae-ra's coat suits her skin tone and body type.
As for her accessories, Hae-ra switches between two different statement earrings when she goes to work.
It is a good lesson for those who do not have much to spend but still want to appear stylish.
Invest in one or two classic and quality pieces to complement your daily looks.
6.The King: Eternal Monarch (2020)
There are so many fashionable moments we love from this drama by Kim Eun-sook.
Many of these moments come from Goo Seo-ryung (Jung Eun-chae), who is the prime minister in the fictional kingdom of Coryea. In one scene, she tells off her staff who shows her a rack of women tuxedos to wear.
She says, "Just because I work surrounded by men, it doesn't mean I have to dress like one."
Throughout the series, you can see her rocking mostly dresses as well as skirts and blazers.
Moreover, Seo-ryung is not afraid of colours and patterns that even her heels have animal prints.
Taking a closer look to her accessories, her earrings, necklaces and rings are often in a matching set.
They are mostly in minimalist design and not chunky so she still looks professional with her accessories.
Since the female lead character Jeong Tae-eul (Kim Go-eun) is a police detective, her style is more on the practical and comfortable side.
Her go-to fashion items are jeans and sneakers as well as dark-toned blazer or coat.
The brands of her sneakers include Adidas, Converse, Vans and New Balance.
7.Tomorrow With You (2017)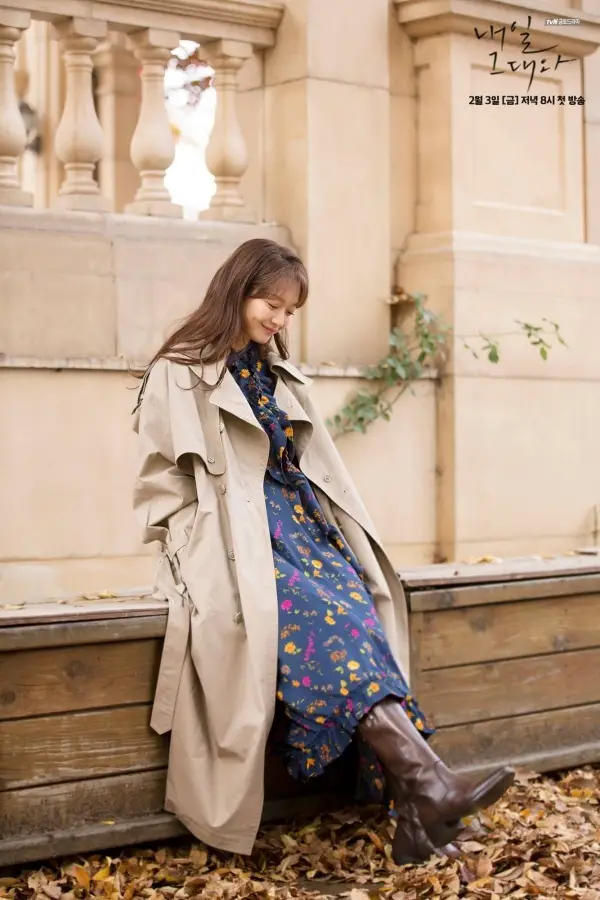 How about some Korean fashion from K-dramas that we actually can afford to copy?
Playing the role of a photographer Song Ma-rin, Shin Min-ah's style in the drama Tomorrow With You is more chic and casual.
Overall, her style in the series is an embodiment of the term 'effortlessly stylish'.
Sometimes, she pairs an oversized jacket with black top and pencil skirt. She also like to match boyfriend jeans with casual top.
If you think wearing a white button-up shirt with a pair of blue jeans might be too simple for your taste, take a note from Ma-rin's style.
She adds an extra oomph to her white shirt-blue jeans outfit by tying a scarf around her neck.
We believe that your wedding dress should be showcasing your personal style and Ma-rin agrees with us.
Ma-rin has been chic and casual in her daily looks so her wedding dress also screams her personality.
Instead of the usual ballroom gown and mermaid dress, Ma-rin opts for a white two-piece of crop top and fitted long skirt for her wedding look.
8.Her Private Life (2019)
If you are working in a corporate company, here is K-drama style icon for your fashion inspiration.
Playing the role of an art curator Sung Duk-mi, Park Min-young is always on the move in the drama Her Private Life (2019).
Her works include running the art gallery, organising events, meeting artists and going to art auctions.
In order for her to look professional but be practical in the same time, Duk-mi chooses to wear suits for her office looks.
Since she is a young working adult, Duk-mi is not afraid of vibrant colours when comes to her suits. She is as comfortable wearing suits in neutral colours as in vibrant colours such as purple and bright orange.
As for accessories, Duk-mi tones it down with simple stud earring and thin chain necklace.
Duk-mi's style is perfect for those who wants to stick with only one signature style with only room for different colours.
9.The Bride of Habaek (2017)
While Duk-mi carries her suit in more formal way, Yoon So-ah (Shin Se-kyung) in The Bride of Habaek in a more casual wear.
As a neuron-psychiatrist, she shows up at work usually in jacket with a white tee and a matching tapered or cropped pants.
Instead of a pair of heels, So-ah prefers white sneakers to complete her look.
Overwhelmed with financial problems in the beginning of the drama, So-ah's outfits are mostly dull grey and white colours at first.
As her character grows throughout the story and her mood becomes brighter, the colours of her outfits become more vibrant.
While she still maintains her usual jacket and pants, So-ah wears them in soft colours like baby blue and light green.
On her off-days, So-ah likes to keep it casual with jeans and layering cute strappy blouse on top of white tees.
Meanwhile, another fashionable character in the drama is Moo-ra which played by Krystal Jung.
Moo-ra is a water goddess who has been living in the human realm as an actress.
Since she is a goddess, Moo-ra really dresses up like a goddess in every scene.
Her outfits are all in striking colours coming from high-end brands such as Gucci, Valentino and Isabel Marant.
For her hairdo, Moo-ra keeps in simple by keeping it sleek and straight.
10.Find Me in Your Memory (2020)
Even if there is a role of an actress in Korean drama, it doesn't mean that the character would be stylish or fashionable.
Sometimes the style is too cliche in depicting an actress wardrobe.
However, here is a fictional actress that we love.
Moon Ga-young plays the role of Yeo Ha-jin, an actress who lost her past memories due to a traumatic incident.
The outfits she wears vary according to the places she goes or events she attends.
For a radio interview, Ha-jin wears pastel purple tweed fringe jacket to appear professional.
When going for a date strolling in a park, Ha-jin keeps it feminine and simple with a light yellow ruffle wrap dress.
At home, she likes her outfits to be comfy and cute with bright coloured sweatshirts.
The takeaway tip here is to always dress according to occasion and event but in the same time never forget to bring your own personal style.